Jessica Wallace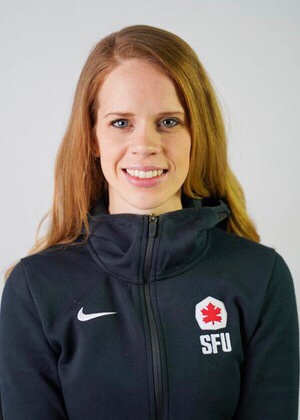 Life Story and Experiences
Do you remember your first memory or experience in basketball and when you fell in love with the sport?
When I was in grade 5, my two older brothers told me that I couldn't play basketball or that I wouldn't be any good at it and I've always been competitive so that really lit my fire. I wanted to prove them wrong, which is how my basketball journey started and I fell in love with the process of training after that.
Tell us about your basketball journey leading up to this moment.
I was involved in Steve Nash basketball in Vanderhoof and played on my elementary school team. After that, I was invited to play on the senior team of my high school when I was in grade 8, which was kind of funny because I played my first senior game at 12 years old (I was so small). I had a lot of support from family and I was lucky to have coaches that really loved the game and would open the gym early for me. We always had competitive teams, and would make it to provincials every year. That was a lot of fun being able to do that consistently in a small town.
Like I mentioned before, I was always small and I was not the most athletic, so I wasn't recruited heavily. I was cut from provincial and junior teams, but I had a work ethic and I wasn't scared to talk or lead, which set me up for the opportunities I had coming next.
After high school, I was recruited to UNBC in Prince George, but I didn't play in my first year because I tore my meniscus in training camp. Going into my second year, they found another issue with my knee that needed a second surgery (I had a broken bone that they needed to remove) but I was so stubborn because I wanted to play that I didn't get that surgery. To this day, I still have knee issues because of that decision. It was a tough year with not playing a lot and being in a lot of pain. This led me to step back from basketball for two years to get my surgery, rehab, and move to the Lower Mainland to figure out what was next for me. When I figured out that I wanted to study athletic training, I started looking at schools in the states because there were more programs out there and I knew that I wasn't finished with the game; I wanted to see what I could do.
After a visit to Indiana University of Pennsylvania (IUP), I accepted a scholarship to play there, even though I didn't know a single person, which was a growing experience for me. That experience in itself was also a rollercoaster because I came into a very athletic and talented team, so I didn't play a lot. I became more of a role player on the team, which was tough, but I adopted the mindset of "control what you can". I took pride in practicing and making my team mates better. In my senior year, I was actually voted as captain for my team, and I only averaged three minutes a game. That was an eye-opener for me, in the sense that you can be a leader no matter where you are or what position you're in. Even though my experience at IUP didn't go how I thought it would, it was great because it made me tougher.
After that, it was a natural transition into coaching. I was a grad assistant for a year at IUP and since I knew I wanted to come back home, I reached out to Bruce Langford at SFU because I wanted to stay in the NCAA. He didn't have a job for me at first, but I kept bugging him and then a position opened up and he took a chance on me. It's been a fun ride since.
What inspired you to pursue coaching full time?
First off, I never wanted to work, in the sense that if you're passionate about something then it's not really a job, so I feel really blessed that way at SFU. Ultimately, I just wanted to make a positive impact. I really enjoy the process of growth and at the end of the day, basketball is a tool for growing as an individual and preparing yourself for life off the court. I wanted to be a part of that for young women because I know that basketball did that for me and I wanted to make that difference as well.
Was this always your plan?
I've always liked coaching, but I never thought that I would do it for a career. I really thought that I would go into athletic training and eventually physiotherapy. In my senior year of college, I did an athletic training internship with the Philadelphia 76ers for a basketball camp. While it was really fun, I wasn't allowed to be involved with the basketball aspect because my job was to handle injuries and tape ankles. The whole summer I just wanted to coach, which made me re-evaluate my path and the following year, I started coaching seriously, as a grad assistant at IUP.
What professional development opportunities did you take that benefitted you as a coach?
Anything and everything. I really believe in being a lifelong learner and having a growth mindset, so I really love reading, listening to audiobooks, podcasts and TED Talks.
I went to the WBCA Conference (Women's Basketball Coaches Association) in the Final Four several times, which is really great for growing the game and networking. This past year, I've been working on my NCCP Train to Compete, which I'm almost done, and that was an exciting thing to do because I got to connect with coaches across Canada. Last month, I was a part of an NCAA coaching academy, which was a couple days long and I got to hear from some great, talented coaches.
I think as a coach, you always challenge your players to grow, so you better be doing the same thing; finding ways to grow yourself as a coach.
By hosting coaching clinics at SFU, I've had to learn to be more outgoing and talkative as a coach, whereas I had no problem with this as a player. Having to speak at the clinics has really helped me grow and I definitely learn a lot every time we host them.
Reflections
Who would you say, has had the greatest impact on you growing up and throughout your coaching career?
Growing up, it was definitely my parents. They sacrificed a lot for me to have the opportunities that I did. Being 1 of 6 kids, it's not cheap to give you those opportunities. In falls and summers, my dad would drive me down to Vancouver on weekends to play and that's a 10-hour drive one way. In hindsight, I recognize that it was a big commitment and sacrifice but as a kid you don't appreciate it as much as you should. My parents really instilled a strong work ethic when I was young and my perspective of gratitude. Without those two things, I wouldn't be where I am today. Looking back on the trials of it all, it's definitely made me a better coach and person.
For my coaching career, I've come across a lot of selfless people, but Bruce Langford is definitely my biggest mentor in the game. He's not only one of the most successful and recognized coaches in Canada, but he's also a great person. He's really helped me find my voice as a coach and he's so good at challenging me every day to be outside my comfort zone and grow on a daily basis. I feel very lucky to have him in my corner, in my professional and personal life.
How has your time playing abroad shaped you as a person and a coach?
I know that I maximized the package that I had and it didn't result in playing time in my environment, but I'm okay with that because I know I did everything that I could. Having that mindset of controlling what you can, instead of blaming yourself or your coaches makes a huge difference but it's not an easy thing to do.
When I was young, I had this really big picture dream of what I wanted for my basketball career and for myself and none of it happened the way I thought it would. Young people need to realize that sometimes what you plan and what happens isn't always the same thing, so you have to be able to adjust and adapt along the way. Life has adversity and it takes us on many paths, but just because it's not the path you hoped for doesn't mean there is someone to blame. Make the best of the challenges, so you can be better in whatever comes next.
What motivates you to do what you do? What are you most passionate about?
People, my players, and relationships motivate me because it's such a big part of the game. Whether it's my university team, a high-performance group or even a young group of grade 5 girls, I really love watching growth. At the university level, you really get to see the players grow not only in their skill development, but as people in such an important time of their life.
What goals do you hope to accomplish in your career and your personal life?
In my career, I really want to be head coach. That's my ultimate goal, to have my own program and make an impact that way (whether that's in the NCAA or Canada).
In my personal life, I've been trying to work more on mindfulness and being present. I think sometimes we get carried away with what's next and worrying about all the people around us, so I've been trying to focus on being grateful in the moment.
What has been the toughest moment in your basketball career that you've had to deal with? If you could go back to that moment, what would you tell yourself?
The injuries I faced, coming out of high school were tough to deal with. I basically had four years of injury and trying to recover, which felt like the end of the world at that time in my life. If I could go back, I would tell myself that life doesn't go according to plan, so adjust and pivot quicker. When you're young, you spend a lot of emotional energy on things you can't control, and I wish that I would've told myself that this is just one experience that's making you more resilient for the next one. It's not the end of the world, you're going to be fine. Just stop spending all that energy on the disappointment.
The next thing I would also say is focus on your flexibility, your mobility, and your corrective exercises because coaches say it all the time now but looking back, that could've made a big difference for me. I could've probably maximized what I had a little better if I focused on those things, so take that seriously!
Is there anything that you do to take care of your mental, emotional, and physical health?
I can't really play basketball anymore because of my knees but I like to move my body as much as I can. Whether that's going for a run, doing a workout outside or maybe yoga, I like to do things everyday where I'm at least moving and that benefits me. My faith is also really important to me, so making sure that I have the time to reflect and practice gratitude really helps me with my mental health.
What has been your proudest moment/greatest achievement in your basketball career?
As a coach, one of the greatest moments that I had was in 2017: we went to the NCAA March Madness Tournament and upset #1 Alaska Anchorage on their home court to advance to the Sweet 16. That was just goosebumps and butterflies, it was so exciting, and I was really proud of those girls because it was such an adverse season.
The proudest moments are those "this is what it's all about" moments that people don't really see, whether that's on the court or off the court academically. Another big one would be graduation because it shows that there's life after basketball and there's nothing like seeing my girls walk across the stage.
What do you think can be done to support girls and women in coaching post-secondary, along with growing the game in BC?
I think that there's a lot of support that's going on already for women in coaching. The NCAA and USport have mentorship programs for women in coaching. Vancouver Basketball runs the Women's Roundtable, which is great for networking and for women. Howard Tsumara and Varsity Letters does a really good job of putting out great content that supports women as well. Women are finally reaching back and pulling up the next generation and wanting to support each other, which is good.
The next step would be finding more ways to support and accommodate parent coaches. No matter your gender, being able to encourage coaches to bring their family into their role is important. Especially for women, there's this unspoken stigma of having to choose between your career or family. I don't know the answer of what we do with that, but I do think that we can be better in that area.
---
Posted July 31, 2021