Post
August 13th, 2014Talking Hoops with Jessica Hanson
Jessica Hanson, (Little Flower Academy), was a member of Team BC's U17 National team that finished 6th this year in Edmonton. Hanson was also named to the 2nd Team All Star Team, finishing 2nd in total points, 3rd in total assists, 3rd in total free throws and 5th av/game assists.
Basketball BC spoke with her recently about her Nationals experience, her favourite pre-game food and more.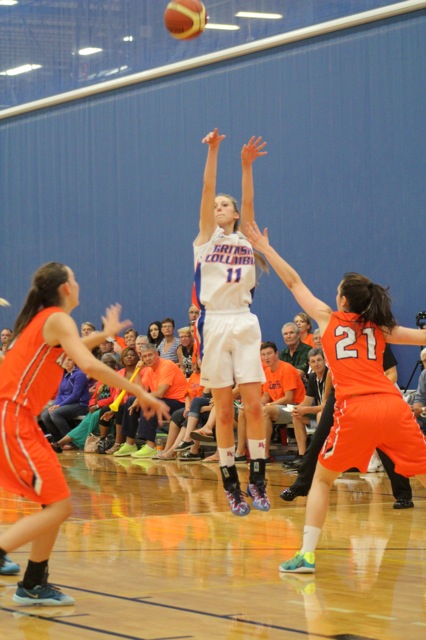 BBC: Thanks for your time Jessica. Let's start off with....what's your hometown?
JH: You're welcome. I'm from Vancouver, BC
BBC: How long have you been playing Basketball?
JH: Since Grade 3 or 4 so about ten years.
BBC: What is your favourite aspect of the game?
JH: I fell in love with the competitive spirit of the game as well as the feeling you get when you win. I also enjoy the feeling of self accompliment when you reach your goals.
BBC: What was your most memorable moment from the recent Nationals?
JH: Well, we didn't finish the way we wanted to but I felt we really came together as a team at the end. We practiced all summer and we did end up playing some of our best basketball over the course of the tournament.
BBC: Is there a coach who has influenced you the most over your playing career?
JH: I would have to say Allison McNeill and Shaun McGuinness. I've worked with them both on and off the court and they have really contributed a lot of their time to help be grow with the game of Basketball.
BBC: Any advice for young players?
JH: As they go through the Basketball BC programs try to enjoy the moments and the experiences with teammates. Embrace different coaches whether you like them or not and in regards to big events like Nationals, remember to have fun.
BBC: Ok this is the lighter part of the interview, what is your favourite pre-game meal?
JH: Pasta definitely - spaghetti and meatballs.
BBC: Favourite pre-game drink?
JH: Water
BBC: Who is your favourite NBA player?
JH: Tony Parker or Kevin Durant
BBC: Favourite NBA team?
JH: San Antonio Spurs
BBC: Pre-game music that gets you pumped up?
JH: Drake, AC/DC or Iggy Azalea
BBC: Finally, an inspirational quote that has helped you the most?
JH: The quote that's helped me the most would be, "Trust your Preparation". Allison McNeill has said this to me a lot before a big tryout or game. Basically it just means knowing that you've put a lot of work in for this moment also knowing that you're ready. It helps me just to go out and play the game I know and not be nervous.
BBC: Thanks very much and all the best moving forward.
JH: You're very welcome, my pleasure.