Post
October 16th, 2014Raptors in Vancouver
The Toronto Raptors held their training camp at Fortius Sport and Health the week of September 29th and numerous other activities took place throughout the city that week culminating in the Toronto Raptors vs Sacremento Kings exhibition game.
The Raptors in conjunction with Basketball BC and Fortius Sport & Health held two youth clinics that featured over 200 kids ages 8-14 and took place on October 1 and October 2. There were also opportunities for some local coaches to be involved in the clinics and to watch a full Toronto Raptors practice.
Rogers Arena was sold out as the Raptors played their first exhibition game of the season on October 5 and defeated the Sacramento Kings. At half time the Toronto Raptors Presidend and GM Masai Ujiri presented Basketball BC President Diana Chan and Provincial Coach Shaun McGuinness with a cheque in the amount of $20,000 to go towards coaching development in the Province of BC.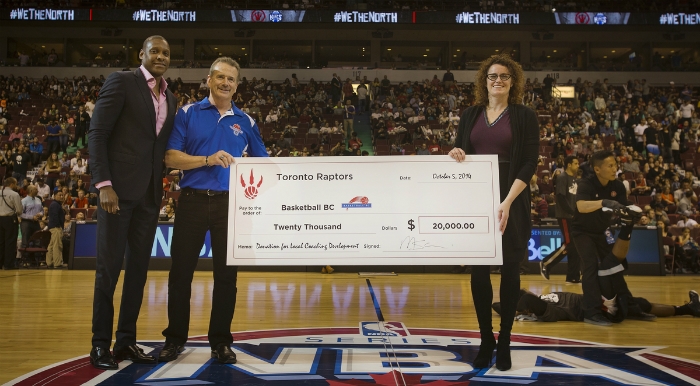 Basketball BC would like to extend out thank to the Toronto Raptors Organization for the generous donation.
For more photos check out the Toronto Raptors Photo Gallery