Youth Development Camp
The Basketball BC Youth Development camps are designed for athletes aged 9-12 who are looking to improve their game in a fun, inclusive, high-energy environment, using a "games approach" to learning.
CAMPS ARE COMPLETED FOR 2019.
Building the athletic "house" of each athlete focusing on the ABC'S (Agility, Balance, Co-ordination and Speed) of sport.

Fundamental skill development will include: shooting, dribble moves, one on one play, passing, pivoting and defense.

Conceptual development will include: Spacing, timing, reading defense, and moving without the ball.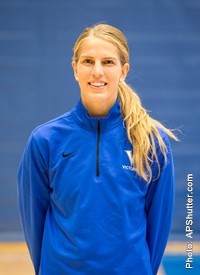 Head Coach - Leanne Evans
The camp will be led by high performance coach, Leanne Evans. Leanne Evans has been a recognized member within the Basketball BC and Canada Basketball community for nearly 20 years as both a player and a coach. She has coached with Basketball BC's high performance programming through POD, Centre for Performance and provincial teams, and led the U15 Basketball BC provincial team to a gold medal at the 2018 National Championships. Leanne is a former national team player who played for Canada for 8 years. She also served as the lead assistant at the University of Victoria for 6 seasons.
Fee: $175 (fee will not be adjusted for partial participation)
(A 2019-20 Basketball BC Athlete membership is required for participation. The membership fee of $15 will be added to the registration)
Location: Langley Events Centre
Gender/Ages/Dates/Times:
| | | | |
| --- | --- | --- | --- |
| GENDER | AGE | DATE | TIME |
| CO-ED | 9-12 | July 8-12, 2019 | 9AM-12PM |
| CO-ED | 9-12 | August 19-23, 2019 | 9AM-12PM |
Program questions? Contact: Basketball BC
---
Registration Information
Registration: ONLINE ONLY
Registration deadlines:
July camp: Wednesday July 3, 2019 REGISTRATION IS NOW CLOSED
August camp: Wednesday Augut 14, 2019 REGISTRATION IS NOW CLOSED
Please register before the camp deadline. In accordance with Basketball BC policy, all participants must be preregistered to attend this program.
REGISTRATIONS WILL NOT BE ACCEPTED AT THE DOOR.
Basketball BC is not responsible for any registration errors which may result in the athlete being excluded from the registration list.
REGISTRATION QUESTIONS/PROBLEMS
---
If you have paid for a program/event and are unable to attend, you must email Basketball BC to request a refund.
The following policy will be applied to all refund requests. If the request is within the policy, the refund will be processed to the credit card used in the online registration transaction. Please allow 1-2 weeks for processing.
Basketball BC is not responsible for any loss of funds if notification is not provided and a refund is processed to an invalid or expired credit card.
NOTE: Program fees cannot be transferred to another program
Player and coach memberships
No refund - player and coach memberships are NON-REFUNDABLE (exception - see Full Refund)
Player camps and Coaching clinics
Refund less an administration fee - up to 5 days prior to the start of the program or event
No refund - within 5 days of start of the program/event
No refund - for partial participation
POD Training/Centre for Performance
No refund after the start of program (exception - see Withdrawal Due to Injury)
Provincial Teams
Refund less an administration fee – if a replacement player is available to fill the vacant spot. The refund will be equal to the fee less the sum of the cost of participation to date, cost of provincial team apparel, and an administration fee.
Team Events/Tournaments
Refund less an administration fee - up to 2 weeks before the start of the tournament or event.
Withdrawal Due to Injury (must provide a doctor's note)
Partial refund MAY be considered on a case by case basis. An administration fee may still be assessed.
Administration Fee
The administration fee for all refunds will be assessed at 10% of the program/event registration fee
Full Refund
If there is a program change in date and/or time by BASKETABLL BC and registrant is not able to attend due to the change (valid for a up to a week of notice of change)
If a membership fee was purchased with the program registration (relates to program change above), as long as the membership was not used to register for another Basketball program/event
Refund request?
Contact: info@basketball.bc.ca
---